Chair
Adele Upton
Bath University Guides and Scouts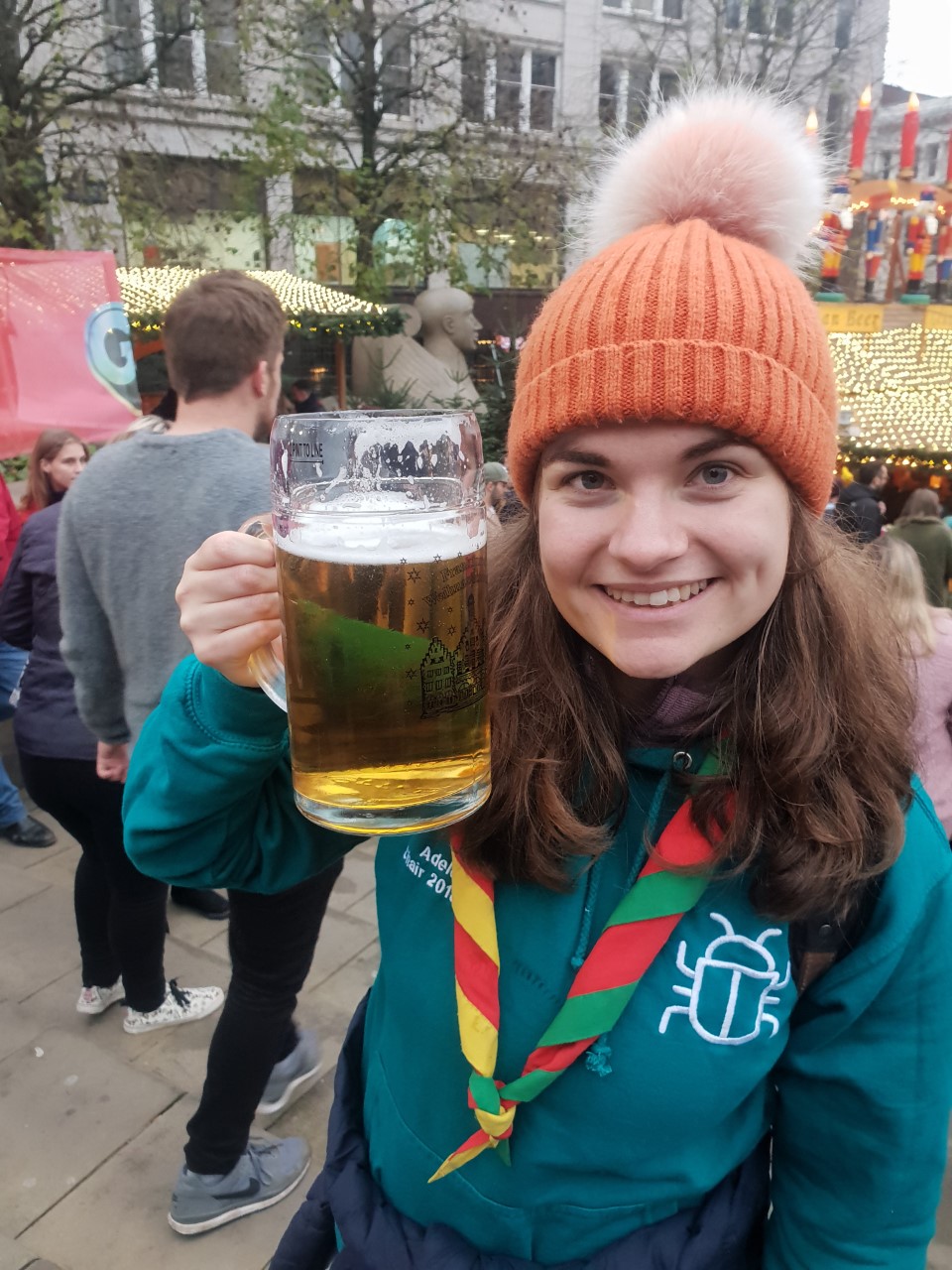 'Hello, it's me'
And by me, I mean Adele, and I'm running for the position of chair.
A little bit about me
Chemical engineer at Bath University

Currently undertaking a placement at Jacobs Douwe Egberts (think Kenco and Tassimo, so if you want cheap coffee, you know where to come)

Ex fishmonger at Bath Farmers Market

Keen climber

Lover of all doggos – I have a springer spaniel named Flash and if you make it to the end, i'll reward you with a picture of him in a necker
My plan for the next year in SSAGO
Buddy System
New and established clubs: One discussion that keeps coming up is 'how can we help form and grow new clubs?'. Ultimately, new clubs need help from established clubs. I propose we pair up new clubs with older clubs in similar areas, to give advice and support. Established clubs would provide a point of contact for questions relating to programmes, general running of the club, etc. This pairing also has the potential to help both clubs make it to national events, through shared transport and equipment if both clubs agree.
Past and future national events: Currently, there is a knowledge gap in SSAGO. Those running rallies and balls currently take on the task of preparing an event for ~ 300 people, often without any support of those who have experienced the task themselves! This results in a cycle of committees of national events having to start afresh each time, rather than build upon all the knowledge gained from previous events. For example, spring rally organisers would offer advice to the spring rally in the following year. This would allow committees to have access to those with experience and learn from past mistakes/successes/random events, also taking some of the pressure off exec!
Continuation of Event Knowledge
In addition to the events buddy, I plan to work with the events officer to make sure the knowledge from each event is captured and retained between events. National event reports, detailing the events, successes, weaknesses, learnings will hopefully lead to better events for all of SSAGO, happier committees and an easier start for those thinking of running an event.
SSAGO Volunteer Staff Scheme
We have a SSAGO support team for helping with national Scouting and Guiding events, but we do not have one for our own organisation! SSAGO is lucky to have so many members willing to step in and help at national events. I plan to build a volunteer staff team who enjoy and want to help at national/regional events. This would also help smaller clubs considering running an event, as full support could be provided from within SSAGO. In addition to this, I hope by creating a new SSAGO project dedicated to volunteering within SSAGO, it would open volunteering up to those who don't usually have a chance, such as indie members and those with an introverted nature, by enabling them to volunteer for specific tasks they are comfortable with.
Also, I foresee a badge being involved to reward those who sacrifice their time!
Utilising Skills
Linking to the SSAGO Volunteer Staff Scheme, I want to utilise those with skills to develop SSAGO from within. The scheme allows event committees to determine what skills people have and what they are willing to share – just look at the SSAGO ceilidh band! These skills range from anything from large catering experience, drivers, activity instructors, to reviving the media team!
Harnessing Associates
Associates are key members of SSAGO and are an asset to improving SSAGO. I plan to work with the associate rep to identify their skills to make better use of associates and improve national events for participants and committees!
New Skills
As well as utilising current skills, I want to help pair up people from within SSAGO who want to learn new skills and those who are happy to share their knowledge. This could help make running events easier, by allowing staff of future events to gain experience before their own event. For example, the catering team of autumn rally could help with some of the catering at summer rally.
I'm also keen to introduce instructor-led courses at rally to help build up people's skills, in a similar manner to that which occurs at Gilwell Reunion. Courses such as these provide a chance for people to develop and improve skills, gain permits or just try something new.
SSAGO Projects
It's time to resurrect SSAGO projects and unite SSAGOers with common interests! Projects such as SSAGO Pride and the media team allow those from different clubs to come together and experience a different side of SSAGO. They also benefit SSAGO in general as utilising peoples' passions will translate into their efforts to improve SSAGO, as they work for a common goal.
I also hope to establish other projects, such as:
SSAGO Sustainability Project. Those on SSAGO exec should always be striving for improvements, not just for members, but also for the environment - SSAGO camp outdoors every weekend pretty much! SSAGO have an opportunity to be change leaders in a problem that is not going to go away any time soon, and I hope to help focus the efforts of the exec and SSAGO as a whole to tacklet this.

Programme Badges. Similar to the SSAGO 50th Anniversary Badge, I hope to implement SSAGO programme badges, providing ideas for new activities for clubs to run during their programme and engage SSAGO clubs with each other in order to earn a badge.
By utilising SSAGO projects, I want to provide a platform for those within SSAGO with ideas to be able to share and act on them! SSAGO projects allow members to make new friends and help build new relationships and links.
Highlighting SSAGOs Uniqueness
One of the best parts of SSAGO, is the opportunity to meet people from other clubs at national events, something quite unique that other university clubs cannot offer. When looking to grow SSAGO membership, we should be advertising this, to encourage those potentially interested in joining SSAGO. I aim to work with the publicity officer to aim advertising outwards, promoting the opportunities and experiences provided by SSAGO. I hope to achieve this by releasing a quarterly SSAGO newsletter and working with the media team to design adverts according to the standards set by Scouting and Guiding.
Regional Support
SSAGO has links at local and national level, however, lacks links at regional and county level. I hope working with clubs, Scouting and Guiding, we can build relationships to gain resources, such as equipment, funding and training in return for volunteer support. This could also help to grow SSAGO membership by promoting SSAGO early to those in Guides, Scouts, Rangers and Explorers
Ultimately SSAGOers great ideas and skills, and I want to encourage them to promote change and new opportunities in SSAGO.
Why me?
This is my 4th year in SSAGO and I've chaired a few things in my time – including Bath BUGS and Roman Rally! (I know, I'm practically asking for this rally to go badly by running for exec before it's even gone well!) and have experience treasuring for the charity fundraising committee on placement.
But in the wise words of a certain secretary:
'The 3 ingredients to a good chair are
You want to do it

You know you'll do a good job at it

You care about SSAGO
Actually 4 things – some reluctance to do it because you're sensible!'
And I believe I have these qualities!
So, to sum up: I have the experience of committee life, the ability and drive to make a change and I believe SSAGO makes the time, effort and work all worthwhile.
Plus I'm a sucker for a challenge 😊
P.S. Here's your reward