Secretary
Brittany Long
Independent Members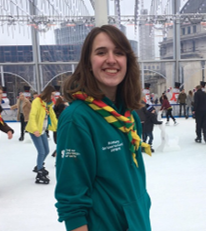 Hi!
I'm Brittany, a final year mathematician from Bath. This is my fourth year now in SSAGO and it's definitely been an adventure. I've loved getting to meet so many wonderful people and I'm looking forward to meeting many more! I'm running to be your new secretary as I love the idea of being able to give back to the organisation that has made my university years amazing, and helping make SSAGO better for future years to come.
Why will I be good for this role?
I have a bit of a reputation among friends for being super 'on it'. If you need something done and a guarantee it will get done, I'm the one to ask!

I've gained a lot of experience this year that will make me an awesome secretary, namely being secretary for both Bath BUGS and Roman Rally, at the same time, while juggling final year. My organisational skills are (necessarily) top notch…

I am seriously enthusiastic about SSAGO. I firmly believe I have read more of the resource documents than anyone else.

I'm already experienced in looking after the secretary mascot Rex, who ex-Secretary Lauren trusted me with at Witan in a Weekend Rally, where he came to the National History Museum with me!
What I'd like to do in the role
Continue Oli's work in giving a new life to the resources section of the website, particularly focusing on sharing good practice and event ideas between clubs, and improving resources available to committees running events. I'm also keen to improve the search feature to make these resources easier to find.

Work with Larah to help SSAGO connect better with its history, and to encourage more clubs to start up their own archives and learn more about their roots!

Find new ways of sharing what the exec are up to and recent decisions voted in by reps, in a way that is concise and easy to access.

SSAGO best bits - I'd like to make some changes to the ways news is added to the SSAGO website, to best display our 'best bits' and make it more of a treasure trove of memories for SSAGOers, including past rally newsletters and gems from the archive.

Use my love of statistics to really up the value provided by the feedback forms we fill in, to help them be as useful to future events as possible.

Write the best and most interesting minutes.
Thank you for taking the time to read this, feel free to come and chat to me at Roman Rally (I'll be on reception!)