Members Officer
Amy Franklin
Independent Members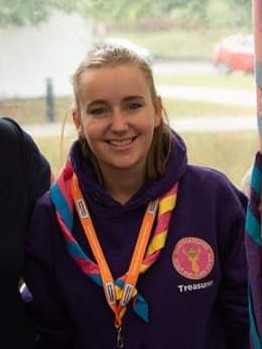 Hi, my name is Amy and I am a final year Physics student at the University of Hertfordshire where I am the treasurer for HUGGaS. I am just coming to the end of my time at university and have loved every minute of my SSAGO experience and I now feel it's my time to give something back to the organisation as I have taken so much from it. Thank you for taking the time to read my manifesto.
My Guiding/Scouting journey:
I have been in Guiding all my life due to my mum being a Guide leader, but I officially started my guiding journey as a Rainbow aged 5

Since then I have been in Rainbows, Brownies and Guides

When leaving Guides there wasn't a Ranger unit near me so I became an Explorer Scout for 4 years and a young leader with my local Rainbow unit back home

When I started at university, I became a Brownie leader and I now help at different 2 units

I joined SSAGO in my first year of university as an Indie member due to there not being a club at my university at the time

In my second year I helped set up HUGGaS and have been the treasurer ever since
Why I think I would be a good members officer:
I have experience in both Guiding and Scouting

From this I have gained a broad variety of skills and know what it's like to work with people from both organisations. It also means I understand both organisations rules and their different ways of doing things, so I have a broad perspective of the organisation as a whole

I was an Indie member

So, I have first-hand experience of being part of the national organisation without having an immediate point of contact at my university and what it is like to attend a national event on your own. I believe this gives me a better understanding of the needs of an Indie member and would put me in a better position to support them

I have started a new club at my university

Hertfordshire has never had a SSAGO before and so starting a club from scratch with just one other person (whom I had only recently met but is now one of my closest friends) was quite a daunting experience! However, we received invaluable support from the members officer at the time which made the whole process a lot easier, so I know the importance of the role! I also hope to be of valuable support to new clubs having had first-hand experience in setting one up myself

I have attended a range of SSAGO events and Guiding events that SSAGO supports

I have been to several rallies and balls and have always attended Wellies and Wristbands (a national Girlguiding festival for Guides and Senior Section which SSAGO supports) as a volunteer. This has given me a reasonable understanding to how SSAGO works and what being a part of the organisation entails but I am always wanting to learn more, and I think being on the national exec would be an invaluable insight not only into SSAGO but also Guiding and Scouting
What I would like to do if I got the role:
A calendar of events on the SSAGO website

I'd like to put together a calendar which has all of the national SSAGO events and SSAGO support events in one place which would be accessible to all members to make it easier for people to plan for them well in advance and not double book the time and hopefully increase attendance at future events

A new clubs guide to SSAGO

From starting a new club I know how daunting it can be joining a national organisation without knowing much about how it runs and what part our club plays so I would like to put together a guide, using information from the various factsheets and from asking reasonably new clubs what they would have liked to have known when starting, which can be given to new clubs just starting out
National event "buddies" for indie members

It can be daunting going to a national event for the first time as an Indie member and I was fortunate that I had a friend in Guiding who was also part of SSAGO who took me under her wing and made the whole process easier. However, I am aware not everyone is so lucky and so I would like to introduce a "buddy" scheme where people can volunteer to be buddies to Indie members who would like one, to be there to answer any questions in advance of an event and to keep an eye out for them when they are there

A place for members to ask questions and share knowledge

As well as being able to contact the exec I would like to encourage members to ask each other their questions and share experiences so we can all learn from each other. Whether this be through a social media platform or on the website I would like to create a dedicated forum-like space for people to raise issues and ask advice from the broader SSAGO community

Ensure membership is paid and give support to clubs who might be struggling financially

One of the key parts of the role is ensuring clubs pay their national membership on time. For most clubs I imagine this will simply be a case of asking, however I know some clubs struggle financially so I would like to deal with this sensitively and privately so as not to embarrass clubs that may be struggling

Most importantly I would like to be a friendly face to all members of SSAGO!

I would like to be contactable to all members, for everything from advice on any SSAGO related issues to answering any "stupid" questions people might have (I know we had many when starting our club and really appreciated the members officer for being patient with us!) to just being available for a chat! I would also like to be a familiar face at national events to everyone but particularly those who are new to SSAGO or are in need of someone to talk to
Overall, I am very passionate about SSAGO and I want to be there to support its members as they have supported me throughout the last 4 years. I have met so many wonderful people through this organisation and gained so many skills and I would like to make sure that more people get the opportunity to experience it.