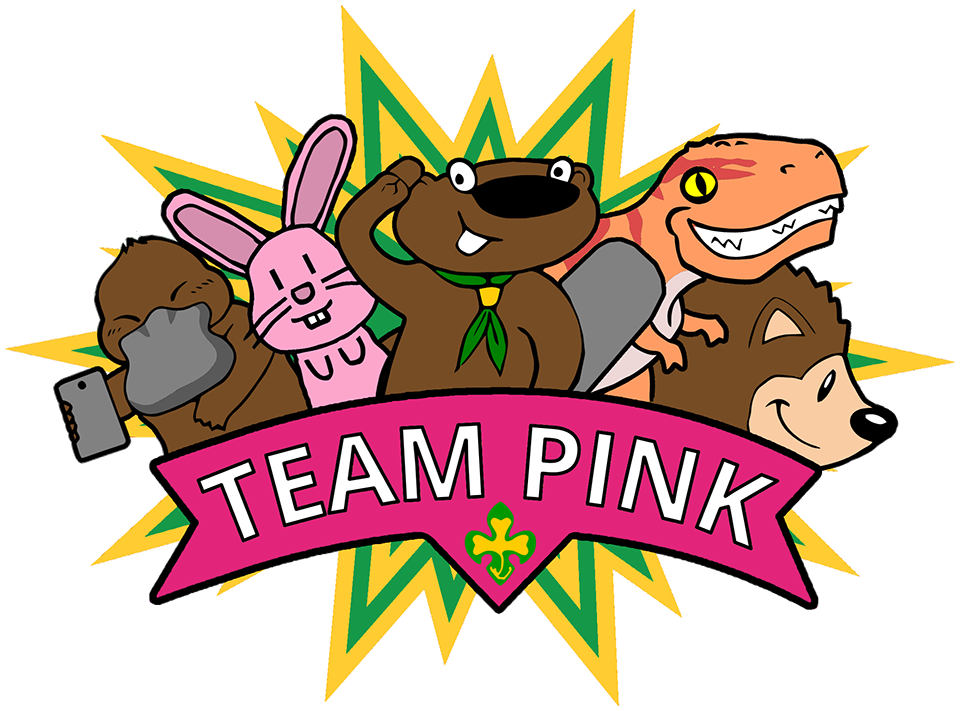 Back
Team Pink are the team of the Executive Officers and Assistants who are responsible for the running and development of the National Student Scout and Guide Organisation.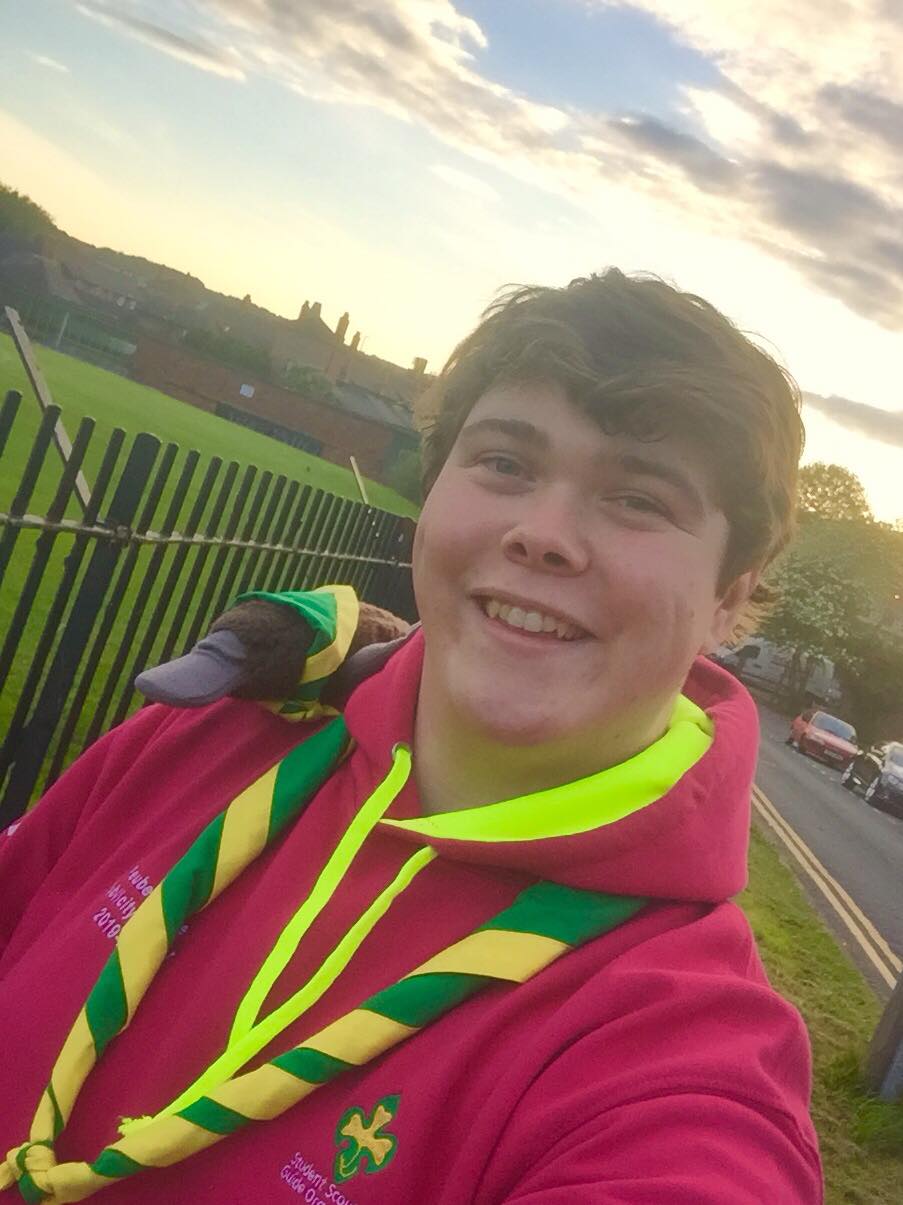 Reuben Cone
Hi there! I was your Publicity Officer for 2019/2020 and I had a really fun year on the SSAGO Exec - so fun in fact that I wanted to do it again! A few of my ongoing projects are close to completion, and I don't want to continue the cycle where the handover causes great ideas to be dropped!
As a bit of background I was previously on Keele SSAGO's committee for three years, taking the roles of Treasurer, Scout & Guide Coordinator and President. During my time in SSAGO so far I've run two international trips, chaired one Freshers camp and organised activities for another. Then there's the year I've just spent on the Exec where I have done loads like revamping SSAGO Support, producing loads of Social Media content, publicised SSAGO online and in real life, designed loads of badges, and so much more!
This year I'd like to finalise the badges and get physical badges made, produce some more publicity materials for clubs to use, provide the new Exec with plenty of support and try and solve some of SSAGOs background issues!
On a personal level I'll be moving to Manchester to do a Masters in Science Communication, and I'm looking forward to joining ManSSAGO and getting back to some 'on the ground' SSAGO action!
February 2021
Report
Social Media: In the run up to Christmas we had another World Cup Of! This time it was Christmas Songs and Fairytale in New York was the winner! There were also posts advertising the new assistants and Christmas Day. There's also been a lot of posts regarding promotion of the AGM. Plus I made a few memes...
News articles: I've compiled and edited two news articles regarding the AGM and the new Assistants
Handover: Started to work on clearing up my drives and creating a general purpose Publicity Handover document.
Misc: Posted out more badges for various things, had various meetings with events and Scouts, and we finally got an answer to the SSAGO/SAGGA logo mess!
Aims
Handover: Finishing my handover document and hopefully having a great handover with my successor!
Drive: Sorting out the Publicity drives so that they are tidy and ready for the next person to use.
Outstanding projects: Needless to say that there have been various projects that haven't been completed this year - thanks COVID! I hope to tidy up as many loose ends as I can however, and anything unfinished can be left for my replacement to pick up if they choose.
November 2020
Report
Social Media: As requested by Reps I produced a load of Social Media posts outlining what Team had been up to before the last Reps meeting. In a bid to help people understand more about what we do. There's also been promotion of Build-A-Rally and the Indie and Associate Rep Elections
Resources: Uploaded new photographs, all the flyer designs, pull up banners, sail flags and rectangle banner designs.
Spoons badges: First two batches (about 90%) of badges have been sent out - many, many parcels and envelopes have been sent out.
Archives: We've had some social media posts from the archives but most significantly I've helped Larah to update the History page on the website.
Misc: Lead a review of the Branding and Publicity policy, checked some Risk Assessments, met with some of the Event Committees and a couple of news articles produced here and there.
Aims
Restarting the media team: As some of you will be very pleased to hear, I can't be Publicity Officer forever. I'll be setting up the Media Team again, to allow creative people to contribute to SSAGO's publicity.
Policies: I want to continue to look at SSAGO's current policies and hopefully help push a few more updates through.
Social Media: I hope to continue to produce SM content over Christmas and we'll hopefully run a new "World Cup Of"
Handover: I want to be leaving the Publicity Officer role in a good state and have a nice transition for whoever my predecessor is. Lots of good ideas haven't happened this year (badges) so I hope to spend the next few months writing a killer handover document and collating my ideas.
August 2020
Report
Social Media: We've had posts introducing the new Exec, some bits from the Archive, some #Onthisday posts, some promotion for our National Events and other online activities, World Cup Ofs and so much more.
SSAGO Supports: I spent a lot of time creating new fancy looking web pages for the summer's SSAGO Support events and then subsequently took them all down *sigh*. Nevertheless we instead got involved in the Virtual Gilwell 24 activities. Thanks to the great work of some SSAGO members we ran a 30 minute pub quiz.
SSAGO Awards: I worked hard on bringing the new Committee Colander award together back in January and wanted to see it through to the project's end so we ran the 2020 SSAGO Awards as a replacement for Steel Ball.
Policy Updates: I am currently working on the reworked Awards policy, updating the Mascot Kidnapping Policy and eventually will do the Branding and Publicity Policy.
Aims
Publicity Materials: Following on from Spring Reps I will be updating the resources section of the website for clubs to purchase their own publicity materials.
Fun Social Media: I will be trying to create a sense of National togetherness on Social Media, with small activities related to clubs and mascots for people to do.
Policy Updates: I will continue to push the policy updates that I've started through as well as move on to new ones.
Bagdes:If there is any movement on the technical side of the badge system then I will research further into how this can operate.
Online Promotion: Continue with SSAGO promotion over the Freshers period.
December 2019
Report
Creation of SSAGO badge programme: The designs of National Event badges, SSAGO Support badges, International badge have now all been finalised and passed on to the webmaster for putting on the website. The SSAGO Clubs challenge badge has been awarded to PUGS who will be giving their ideas at Autumn Reps.
SSAGO social media: I scraped filming a new video idea. Instead focusing my efforts on the social media content. For our social media platforms I have: With help from Archivist produced series of content with items from archive, decluttered following lists on Instagram and Twitter, produced a short ad for Results Day, wrote News article for Scot Rally and Gilwell 24, collated stories from Freshers Camps, pushed clubs freshers stalls, made a few memes, and much more!
Helping Clubs: I recently sent all clubs a bespoke email with advice on their social media and website. I also managed the distribution of Publicity Packs and SSAGO publicity materials over the Freshers period. I am also helping the events with their badges.
SSAGO Supports: I managed our presence at Gilwell 24 which was an overwhelming success. Work included producing new banners and flags beforehand, writing a quiz, creating a 24 music playlist and staying awake for 24+ hours. I also went to Waddow Hall for Wellies and Wristbands where I lost a tire along the way. Badges are on order.
Scouting and Guiding: Tried to get us featured in Scouting and Guiding Media. For the Scouts we got featured in the membership email and post on social media regarding clubs at universities. I have yet to sort anything out with the Guides. Also attended Gilwell Reunion.
Aims
Produce new publicity materials, for download online and in the form of publicity packs for collection at Survival Rally.
Help keep SSAGO fun whilst we get through the lockdown with lots of online content.
Support my fellow Exec members in their first few months, and create my own plan for the upcoming year especially as it will be like no other.
Get the badge system in place and get some badges ordered!
Attend Wellies and Wristbands (if they're still happening) and do lots of SSAGO promotion online and in real life.
June 2019
Report
With help from the Webmaster I revamped SSAGO Support with a new logo, website and created all the events for the coming year
Undertook a substantial social media audit, clearing out all the unnecessary people the accounts were following, reverted back to the original logo after a long overdue time with the 50th Anniversary one
Logged the social media accounts for all clubs in a mega spreadsheet
General social media work, producing posts and the occasional dank meme
Went to Fundays - had a good time!
Aims
Creation of SSAGO badge programme: Create infrastructure for SSAGO Clubs challenge badge system as mentioned in manifesto. Open to suggestions for other types of badges. E.g. nights away, committee positions, 'I've been on a SSAGO International!'
Overhaul of SSAGO social media: Starting with an update to cover pictures etc. Possibly produce an updated video with footage from Ball, Rally, Keele's International and WSJ (If someone can film for me!) in time for Freshers. Would like to use Twitter to create more friendly interaction between clubs, currently our account is a bit cluttered and 'following' list needs slimming down.
Motivate and guide clubs on their social media: Contact every club and encourage them to make sure things are up to date for the start of the new term. This includes the SSAGO website details like descriptions, committee and mascot details.
SSAGO Supports: Make SSAGO Supports the best it can be. This includes attending as much as I can, encouraging members to attend and making sure we have a productive and enjoyable time.
Scouting and Guiding: Some kind of push from official Scouting and Guiding channels closer to Freshers. Ranging from small things like a Facebook post to changing our content on their websites as I don't think it's a great representation of who we really are.