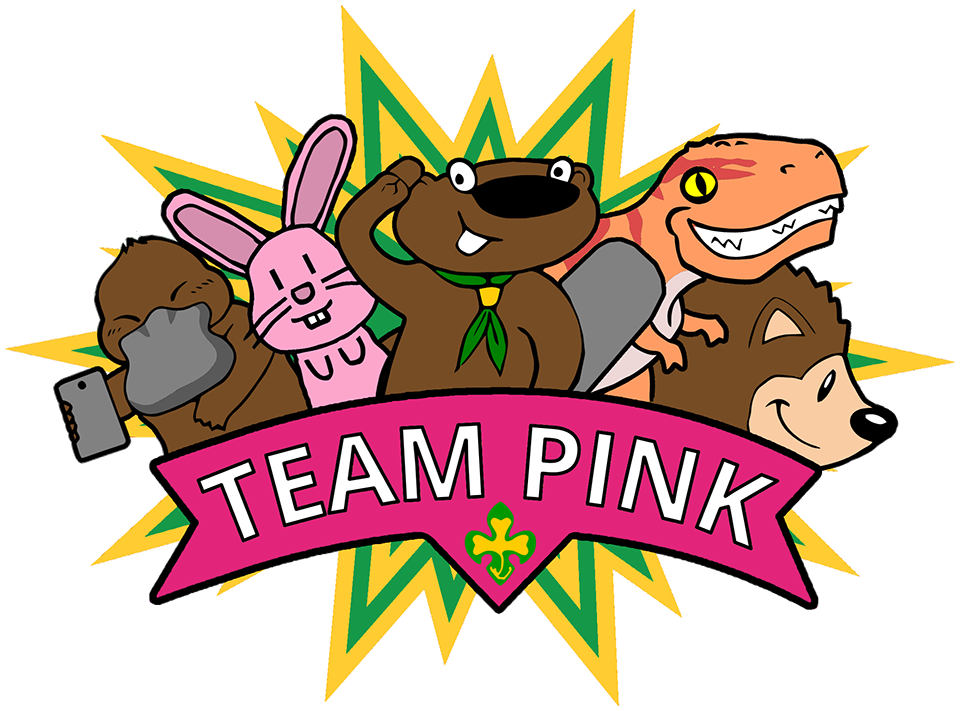 Back
Team Pink are the team of the Executive Officers and Assistants who are responsible for the running and development of the National Student Scout and Guide Organisation.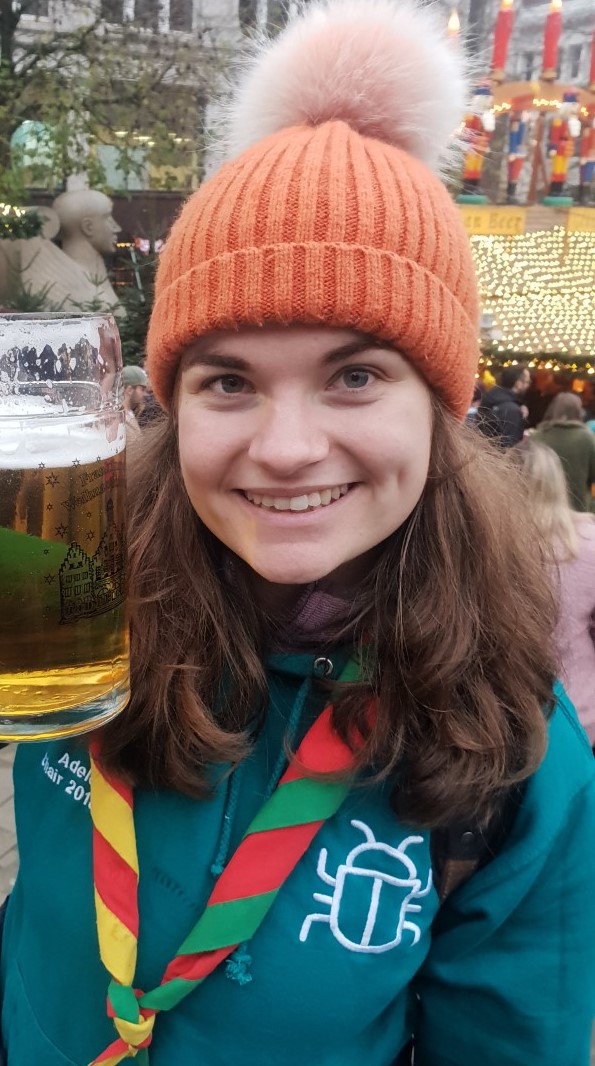 Adele Upton
Hello SSAGO!
I'm Adele and I am your Chair for the next year! I am currently doing an industrial placement year and then will be heading back to Bath for my final year at uni, studying chemical engineering.
I joined the Scouts in 2010, after moving back to the UK from the Netherlands and needing to make some friends near my village. Since then, Scouting has become a huge part of my life, even influencing my choice of university! SSAGO has been a wonderful part of my university experience and I'm so grateful for the people I've met both in BUGS and at rallies. After 2 years on Bath BUGS committee and a year chairing Roman Rally, I decided SSAGO hasn't taken up nearly enough of my time yet, hence my run for exec!
Happy SSAGOing!
February 2021
Report
AGM: Aided in the organisation of the new-and-improved (hopefully) AGM method. If you haven't heard, it's online & we aren't electing events right now, for obvious reasons.
SAGGA: Met with the SAGGA committee to try and bridge the gap between our organisations. They have had a change in leadership recently, so are looking forward to helping the next exec. I suggested they help us train our treasurers, to make their role easier, and advertise themselves at reps meetings & on our website. They are also willing to guide the next exec in all things charity.
SASU Manager Meeting: We now have a strong contact within the Scouts, who is more than willing to help us with things such as providing training, giving new awards and they actually reply to emails too!
Preparation for Event Postponement: Alongside the AGM, I have been working on a range of timelines for rearranging current events and event elections, to ensure SSAGO will have an in person event as soon as possible.
General Chairy Admin: You know, meetings, emails, spamming the 'suggest for exec' button and prepping a good handover document. Also I finished my last ever uni exams!
Aims
Handover: I want to ensure the next exec have a much better start to their year than we did. Creating this handover document and ensuring the next chair has active contacts in SAGGA, Scouting and Guiding will help grow SSAGO and hopefully ease any challenges they may face.
Policies: The 2020/21 exec focussed our spare energy on updating all policies. We hope to review a few more before we leave.
Personal projects: In a time that is almost unimaginable (i.e. one without Covid), I ran for exec with all these ideas to implement. Unfortunately that got railroaded significantly, so I am hoping once the next chair takes on the boring admin stuff, I will have the time to do what I set out to!!
Graduating!:
November 2020
Report
Back to University and Reps: Return to university meant I had an abundance of coronavirus related risk assessments to read! Luckily everyone seems well trained in writing risk assessments as the quality of them was excellent.
A lot of admin, meetings and emails: I won't bore you with the details but in summary it included getting more info for Coronavirus guidance (who's surprised), contacting SAGGA, GDPR related challenges, more risk assessments and so on.
Policies: I also updated two policies, Accident and Incident Reporting and Electioneering Code of Conduct.
Coronavirus: Another month, another lockdown, which means releasing more guidance about Covid-19!
Under 18s: As some of you may have seen, I investigate responded to an issue related to under 18s on the discord (thankfully of which there are none!)
Events: I also supported Build-a-Rally before and during their event, hopefully some of you would have finally got to see my face at the closing ceremony! I also attended a 'Meet the Exec' session during Build a rally and had some fun chats with some of our members. We ran this session to improve the communication between Exec and SSAGO. Well done to the committee for running a fabulous event! I have also continued to have meetings with our future events to help them run the best events they can. Unfortunately this has meant cancelling City of Steel Ball and moving GRYR online.
Aims
Rally Feedback: Work with Build-A-Rally and the Events Officer to find out what worked well and what could be improved for future online events. I'm keen to use the fact we actually had an event to start this buddy system I've been going on about!
Charity Status: Create a step by step guide on how to become a charity
Policies: Continue to update policies
Discord: Starting a sustainability channel on the discord – starting with a Christmas theme
September 2020
Report
Event Postponement: I'm not going to lie, the beginning of my role on Exec was pretty sad. Having the new Exec's first interaction with the event committees be about postponing their events was less than ideal. Thankfully, after a lot of discussions, we managed to provisionally rearrange the events that needed immediate attention. As a result of postponing events, a lot of my role has involved supporting the events in their efforts to plan during such an uncertain time.
Policies and Charity Status: I've focused my spare time on working on policies with the rest of the Exec. Originally the Exec went over some policies together to update them, however, I have now delegated them between us to increase the rate at which these policies are updated. In addition to this I have been working on my knowledge on SSAGO's favourite subject, our charity status.
Online Task Manager for Team Pink: I've also worked on improving Team Pinks communication to get tasks done. I worked with Oli on an online task manager, which will help us keep track of tasks, set deadlines, update on progress and allow each member to set and view anyone's tasks.
Coronavirus Guidance: Along with the rest of the Exec, we worked on and are continuing to work on Coronavirus Guidance for SSAGO from Scouting and Guiding. I am also working through all of your risk assessments so keep them coming!
Under 18s, SASU and the USA: Other things I have achieved include writing a fact sheet on under 18s in SSAGO, attending a meeting with the UK Scout Training SASU (Scout Active Support Unit), and most excitingly, I've been working with students to create something similar to SSAGO in the USA!
Aims
Buddy system: Set up a buddy system with Amy to help connect new clubs and indies with nearby established clubs/indies.
Event Knowledge: Continue working on fact sheets with Anthoney to help with event knowledge.
Improve communication between Exec and SSAGO: Provide more frequent updates either by use of my Exec Facebook page or creating more blog posts.
SSAGO Sustainability project: I'm hoping to get this up and running as it is something I'm very interested in. My provisional thoughts are setting this up as a discord server to share ideas and get people interested.
Policies: Continue to work with the rest of Exec to get as many policies updated before November Reps.
May 2020
Aims
Get SSAGO and all events through Covid-19 (not part of my original plan but hey-ho!)
Create a buddy system for both new and established clubs, as well as between events.
Work with the events officer to optimise their role and capture event knowledge.
Utilise SSAGO's skills to create a volunteer staff scheme and teach each other new things
Resurrect more relevant SSAGO projects, such as focussing on making SSAGO more sustainable.
Promote SSAGO's uniqueness to grow membership!